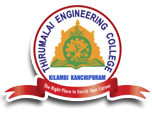 Thirumalai Engineering College
Thirumalai Engineering College, a self–financing institution affiliated to Anna University, Chennai, was established in the year 1999 under the aegis of Kanchi Krishna  Educational Trust whose members have had consummate experience in the fields of education and industry. The College has grown from strength to strength in the last 24 years and progressing towards Excellence in Engineering Education, Research and Development.
Started with 4 Under Graduate programmes in Engineering with an annual intake of 240 students in 1998, the College presently offers 7  Under Graduate and 6 Post Graduate programmes. The approval of AICTE and affiliation of the Anna University for such a progressive intake is a standing testimony for the continuous growth of the college over the years.