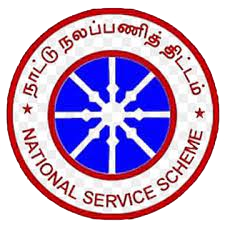 A Unit consists of 450 (UG &PG) members, are actively functioning with the following criteria.
Regular activities of 100 hours every year.
Conducting a special camp of 10 days in a village every year.
We are proud to note that until this academic year, the NSS units of our institution have conducted the Mega and highly useful "Blood Donation Camps". Our NSS units have been creating records in mobilizing blood donors in our students. For the last 20 years. We have been donating blood in excess in 1000 units, which is unique in itself. Not alone, during blood donation camps every year, also in the time of need, to save precious human lives, we send voluntary blood donors (our students) to hospitals to donate blood. This service will continue forever since service to society is our foremost mission.
Counseling, Tips, and training for students who are appearing for the Board Exams in the village.
Emphasizing having clean and green environments.
Conducting Exhibitions and distribution of books to poor students.
Inviting VIPs to the camp to address the people for further enlightenment.
Educating the youngsters to lead addiction-free life with regard to liquor, smoke, and drug.
Educating the villagers to have social involvement.
AIDS/CANCER awareness programs to village people.